Plastic & Precision Machining
High quality, flexible in manufacturing, competitive prices, compliance with environmental standards and responses to the challenges created by globalized markets – these are key customer requirements of the plastic manufacturing industry.


Creative the best product must be pick up by the manufacturing process. Our Power & Cooling system solution guarantees the highest degree of flexibility and reliable. We supply & install the power & cooling systems are equally effective for small, medium, and large production sites – ensuring on-time delivery, quality and consistency.
FROM POWER SYSTEM
We know that Precision machining and Plastics industries operate under specific conditions with exposure to hot temperatures, constant or variable speed, humidity, dust, environment... etc. We provide reliable and quality power system that helps supply on-demand power required for each machine and ensure continuity of production by minimizing downtime of the system.
TO PROCESS COOLING SYSTEM: WE CONTROL YOUR TEMPERATURE

BSE helps you find the most economical and energy efficient solution for your process cooling equipment. BSE provides for the plastics industry best solution about chiller with portable chillers, central chillers, cooling towers, temperature controllers, pumping systems and more for all applications. We will be there for you every step of the way from system design, equipment selection, installation requirements, equipment startup and beyond.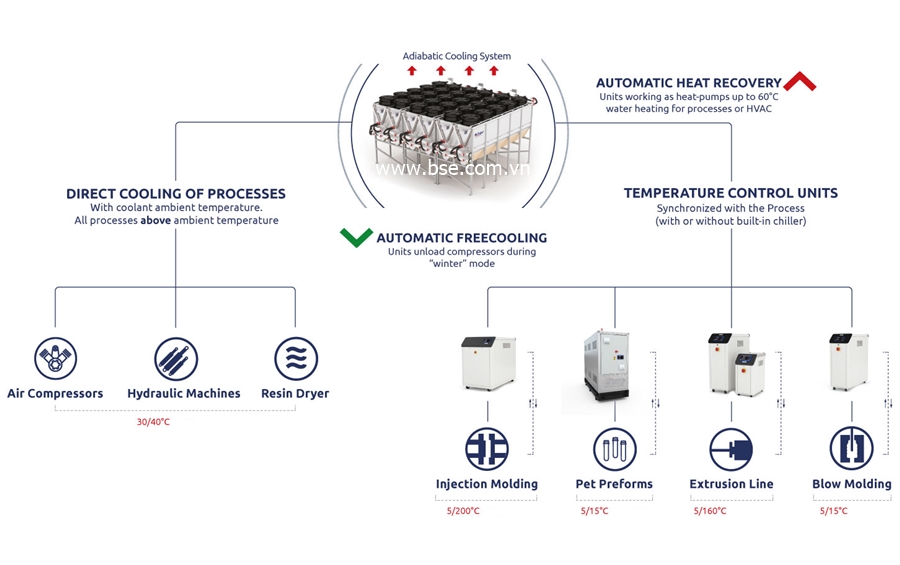 AND BEYOND