Our Commitment
THE BEST SOLUTIONS, PRODUCTS AND SERVICES FOR OUR CLIENTS
At BSE we always aim for the highest standards for our clients. We're equally committed to strengthening and improving the company for the benefit of its employees, shareholders, the communities where we operate and the client we work and partner with.
At the end of the day, what really matters is that you get the products, service, and the price you need to succeed. We're just happy to be a small part of that.

A HONEST ENTHUSIASTIC WORKFORCE

We believe that educated, energised and motivated people are at the core of everything we do. So we invest in employee training that helps to develop our workforce and keep them at the forefront of developing practices in our market.

This is backed by our commitment to their health and safety – and the health and safety of others involved in our activities. Health, Safety, Quality and the Environment are of high importance to our company.
A LONG-TERM SERVICES
Overview
YOUNG AND DYNAMIC CONTRACTOR TRUSTED BY GLOBAL CLIENTS
Established in 2012, BSE E&C Ltd is a full-service Engineering and Construction contractor specializing in the design and installation of electrical, process, mechanical, water, fire fighting, HVAC system and construction works.

The company's commitment to high levels of service and the delivery of efficient and cost-effective solutions on projects of all sizes have been the catalysts for BSE's development into one of the industry's most successful medium sized businesses.
Based in Ho Chi Minh City the economics capital of Vietnam, BSE operates throughout the Vietnam Country and beyond. With over 150 highly trained, highly mobile staff and site operatives based around the region, responsible for the delivery of high levels of client service, we are able to respond quickly and effectively to labour requirements.
The company has a wealth of experience operating in a range of both new build and retrofit, renovation projects, and understands the complexities of every project type.
ONE STOP SOLUTION FOR ALL YOUR ENGINEERING & CONSTRUCTION NEEDS
BSE engineering, project and support teams cover a broad range of technical disciplines and provide competent design services for clients in diverse industries. Our design & build and turnkey solutions enable our clients to focus on strategic issues, leaving the important details to the BSE team.

Our Core Competencies Include:

Uncompromised safety record
Comprehensive knowledge of the markets that we serve
High degree of technical capability
Strong project execution skills
We are committed to training and leading technological development, which we believe are vital to enable us to satisfy the requirements of the engineering & construction industry in the future.
Vision and Mission
VISION VALUE

Safety: Maintain uncompromised safety standards at work and in our everyday lives.

Quality: Provide innovative quality products and services, employing best known methods, while striving for continuous improvement.

Integrity: Exercise the highest ethical standards. Take personal responsibility for our actions and treat everyone with trust and respect.

Teamwork: Continually learn and share ideas and knowledge, and promote collaborative efforts across all internal and external aspects of our business.

Dependability: Take ownership to meet our commitments to our customers and employees.


MISSION STATEMENT

We are an agile, innovative electrical, process, mechanical and construction solutions provider dedicated to delivering value through quality and safety with integrity, teamwork, and dependability.
The Team
Our Board and Construction teams are key to our success and our reputation. We have a highly trained and qualified senior management team, with a wide range of engineering and construction skills and experience, dedicated to providing best value for our Clients with excellent delivery.
Why Us
YOUR ONE-STOP ENGINEERING & CONSTRUCTION PARTNER
Throughout BSE, we work as a seamless team and it shows in our timeliness, work ethic and the quality of our engineering & construction projects. We take pride in our work and our employees talents and capabilities. With over 10 years of design and construction experience under our belt, we have fine-tuned our design process to a science. Through careful planning, scheduling and budgeting we strive to meet your needs and deliver an exceptional project. BSE then monitors and adjusts the project plan to ensure schedule, cost and quality expectations are met throughout the duration of the project.
Strong In-House Design
Through BSE' vast design experience, we are able to guide our clients to avoid potential problems on paper long before breaking ground and losing time and money. BSE has an in-house Engineering that works closely with owners to establish design requirements, reviews project costs and feasibility. We also assist in cost reviews, engineering system and constructability.
Dedicated Project Team
We assign dedicated Project Management Teams to every BSE project that includes our in-house Pre-Construction Team, an in-house Project Manager and an Onsite Superintendent. This personal and accessible approach is one of the most important differentiators we offer to our clients.
Delivery Methods
When building, there are several contract types to choose from. Each project is different and will have factors that will determine which will be the best contract for you. BSE guarantees to be reliable, thorough and professional in whichever contract works best for your project.
Strong In Procurement
BSE Engineering & Construction's procurement team analyzes our projects and provides cost, availability and compliance on material selections. We then make recommendations to control cost, risk, and delivery without compromising quality.
Certificate
Construction Operation License
Vietnam Green Building Council member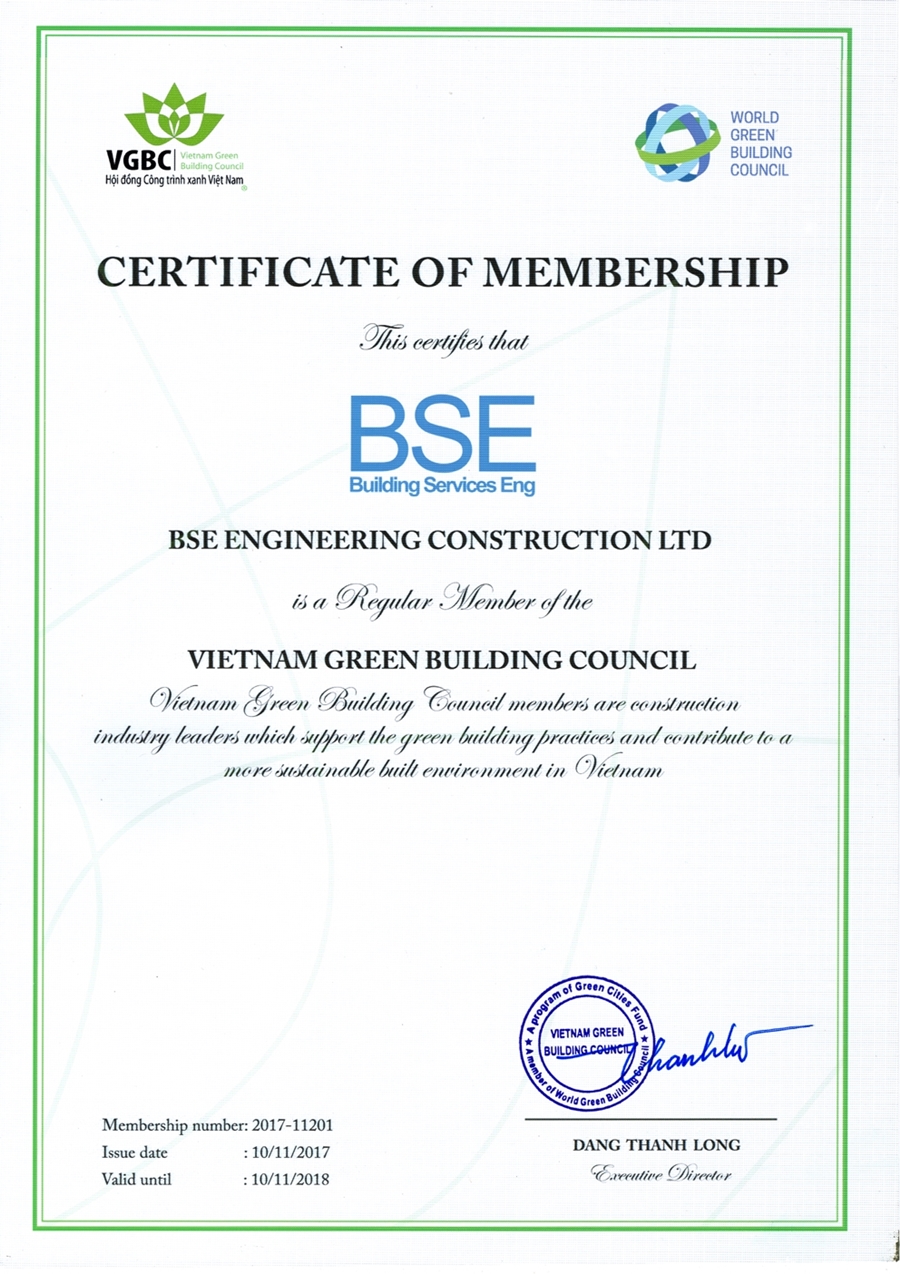 Letters of Recommendation
We serves a broad and loyal client base, providing a comprehensive of professional Design & Contracting services. The resulting in very high repeat business from our clients.
Recommendation letter from Archetype Vietnam Ltd, one of the key construction consultant in Việt Nam Market.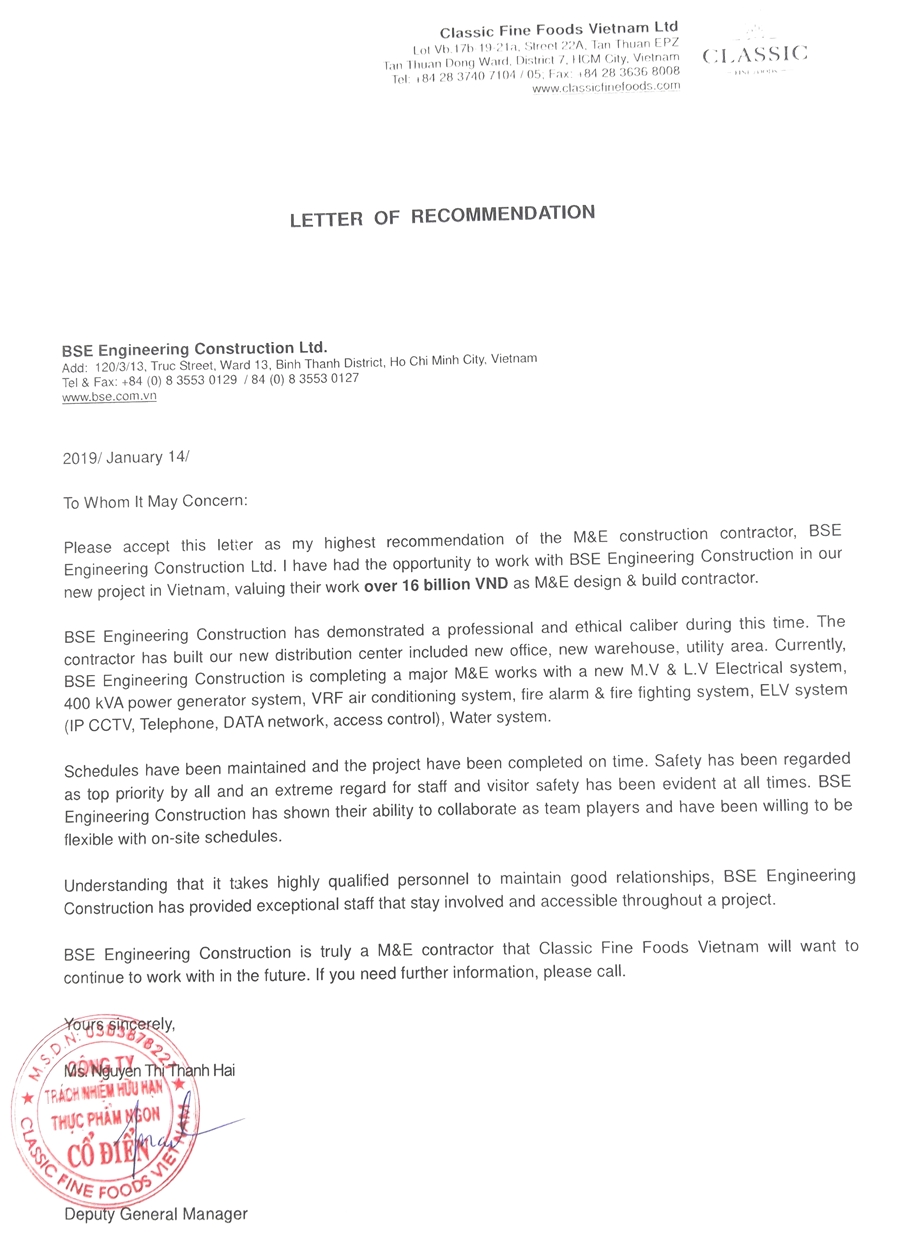 Recommendation letter from Classic Fine Food Vietnam Ltd (a member of Metro AG Germany)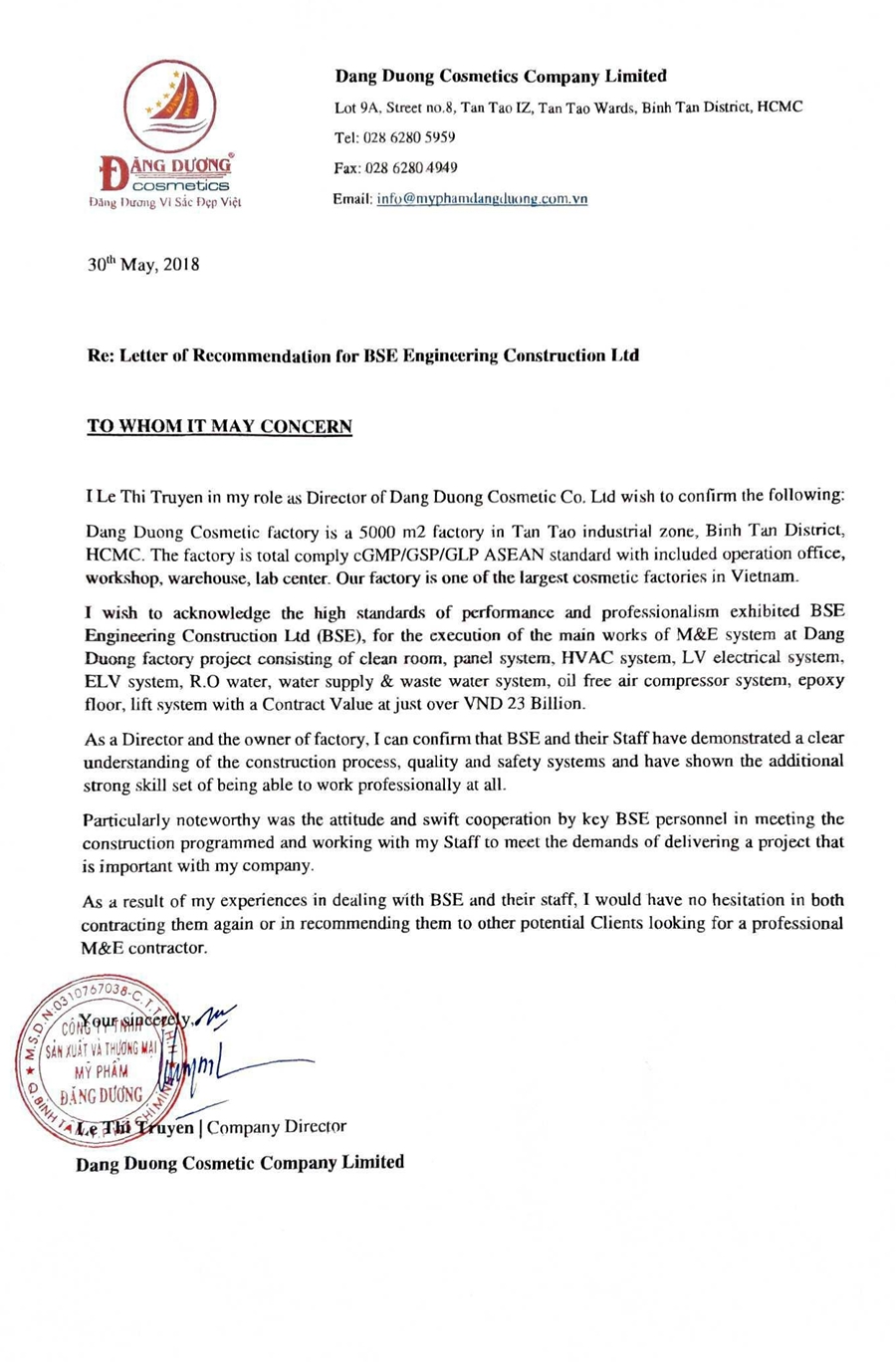 Recommendation letter from Dang Duong Cosmetic Ltd (The owner of cosmetic factory with over 5000m2 GFA)

Our Client
THE NAMES YOU CAN TRUST